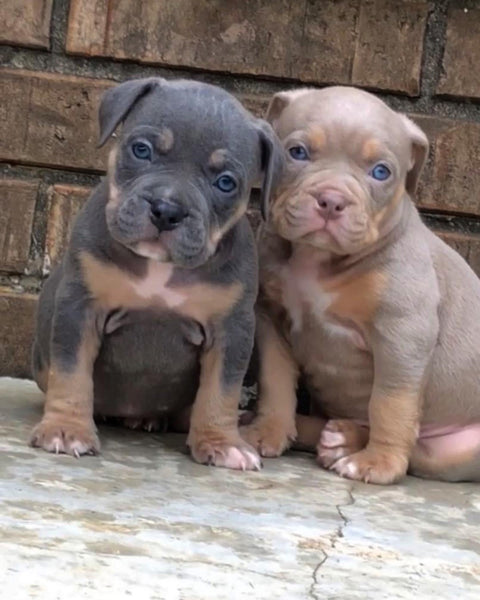 Trevinos Pitbulls Puppies
Tri Color Pups Available. Call or message us @ 479-459-3328 for more information
Trevinos Pitbulls Pups
Blue Fawn & Blue pups available. Call or txt @ 479-459-3328 for more info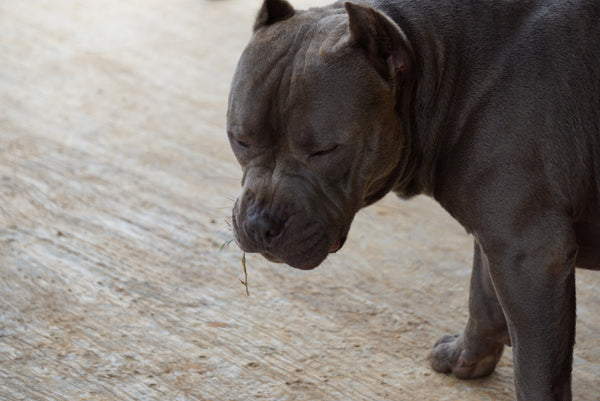 Here at Trevinos Pitbulls...
We breed Pit Bulls & American Bully's for athletisim, temperament, stamina, and drive. They have a unique history unlike any other breed of dog. It is my job as a breeder of these wonderful animals to put out the best representation of the breed. All of our dogs & pups are family raised to ensure loyalty, great temperament, & socialization to it's new loving family. Located on the Western part of Arkansas I've been into pits since I was very young...All of the dogs here at the combine are ADBA & ABKC Registered, as well as any pups that leave here. Enjoy the dogs, and lets all do right by the breed.  All of our dogs are part of our family & are treated as such..We breed both Rednose & Bluenose Pitbulls.
Don't forget to visit our "Past Puppies" Page to see the Beautiful, High Quality, & Healthy ADBA & ABKC Registered pups we produce here at "Trevinos Pitbulls" 
Thank You for visiting our website:) 
To see what picks are still available on the upcoming breedings visit our "Pups for Sale" page. Give me a call so we get you one of these beautiful pups to you. Taking deposits to reserve pick of the litters. For more info. call or text @ 479-459-3328 or email us @ trevinospitbulls@yahoo.com

Deposits are recommended but not necessary to obtain one of our pups, it just gives you a better choice of whats available. ALL our pups come with a Health Certificate, ADBA & ABKC Registration Paperwork, Vaccination Record & Sales Contract stating our Health Guarrantee.
All our Pitbulls are socialized around adults, children & other dogs. All our dogs are raised indoors & are an important part of our family & are treated as such.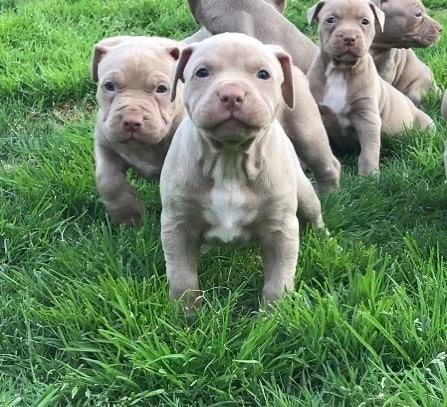 Testimonials
We worked with Lupe for a year to get us exactly the pup we wanted. Not only did he keep us up to date on the breeding, but he made sure we got up to date pictures and info as far as vet appointments and when we could have her. not only does he produce beautiful puppies but his customer service and patience with customers is outstanding. He definitely has our future business. Thanks again Lupe.

Tony
I FIRST WANT TO SAY THANKS LUPE!!! I bought one of Elvira and Manny's pups about a week ago, and he is the most smart, obedient, relaxed temperament puppy I have ever worked with. Your puppies are second to none LUPE, I can not wait to see him at a year old. My pup (JAX) is great with the kids, listens very well, and is very close to being house broke already, in one week. Like I said I can not wait for him to be a year old and send some pics and video of how well he has become into all the description I explained earlier. THANKS AGAIN LUPE, GREAT DOING BUSINESS WITH YOU, I WOULD RECOMMEND ANYBODY AND EVERYBODY TO EXPERIENCE WITH TREVINOS PITBULLS!!

Demetrius
Our pup is a wonderful, playful, energetic & beautiful Red-Nose female, that is an extreme pleasure to have around the house & has become a permanent member of our family. It was well worth the wait!! Every family member & friend who see her immediately lapses into "oohs" & "aahs", wanting to hold her. Trevino Pitbulls has good prices, superfast responses, great communication efforts, exemplary customer service & is very professional & highly recommended!

K & M, Denver, CO
We got our sweet pup about 3 months ago! His name is Tank. He's the sweetest puppy we could of asked for. Thank you for an awesome puppy! I recommend you to anyone who would want a pit bull! The litters are all beautiful puppies! He's truly a mans best friend! Thanks so much for your breeding

John Mark and Mallory
I would like to let Trevinos Pitbulls know that eventhough i had not posted anything on their website about my experience with buying one of Scarface and Elvira's pups, my family and i are very pleased to have brought our baby smokey into our home. He is the best dog we have ever owned i will definitely be doing business with you guys again!!

yperea
I would just like to say, Trevino's Pitbulls are some of the BEST looking AMERICAN Pitbull Terriers I've ever seen. VERY pleased with him. He is developing beautifully and is very intelligent. I am a rancher and use my pitbulls for catching wild cattle, hogs and wild game (coyotes). My little Redemption is very gritty and starting to grow into a fine looking pup! When this pup gets to be a year old and he shows his true colors as a catch dog, I will be returning to Trevino's Pitbulls for more puppies.

Cody
I don't know even where to start when explaining my experience with Trevino's Pitbulls. From start to finish our experience has been awesome!! I am so glad to of found you guys...I am sooo pleased with my lil guy Solo he is amazing!!! I cant wait to get my next puppy!!! Thank you soooo much for everything Lupe!!!

Alex
Thx Lupe for our sweet girl, Scarlet. Shes a great addition to the family & loves our male, Rocky which well later breed them. Thx again! We'll be contacting you for our next baby

Rockpt
We drove over 700 miles to pick up our girl from Trevino. And I have to say it was well worth it. A 26 hour round trip for a pup from Elvira's litter. The little girl was such a trooper for the long ride back to Chicago. A very sweet well behaved puppy. We have 5 dogs all together, including the girl we got from Lupe, and she fits right in. A little firecracker with a sharp mind. Lupe was more than helpful and cooperative with us and He does know his stuff! Never have we drove this far for a dog, but if we get another pup in the future we definately will make the drive back out to Arkansas and get another from Trevino's pits.

Adrianna
I have a dream that one day I will not be judged by my appearance, but by the content of my character
Temperment
According to the American Temperament Test Society Inc, Pit Bulls pass their test 87% of the time. That ranks them as 4th best of 122 breeds tested! That's better than the popular Border Collie (a breed who scores 79.6%).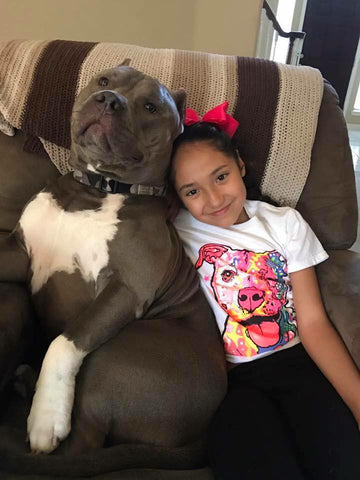 Babysitter
In the early 20th century Pit Bulls were known as "nanny dogs" or "nursemaids" because they were so trusted around children.
Dangerous lol
You are 240 times more likely to die in a texting-while-driving accident than from a Pit Bull attack. You are 18 times more likely to die falling out of bed than from a Pit Bull Attack. You are 16 times more lilely to die from being hit by a falling coconut than from a Pit Bull attack. Get the picture yet?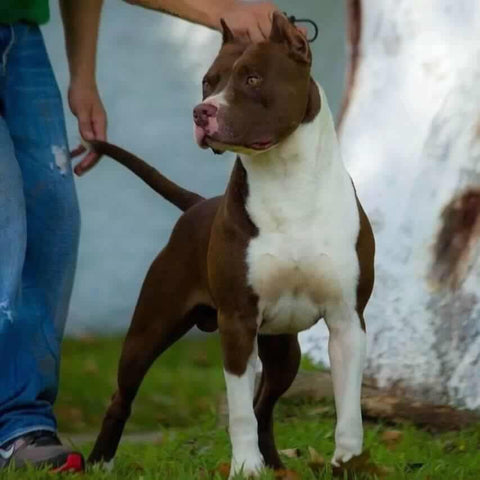 In Movies with Kids
Pete the Pup on the orginal Little Rascals was a Pit Bull.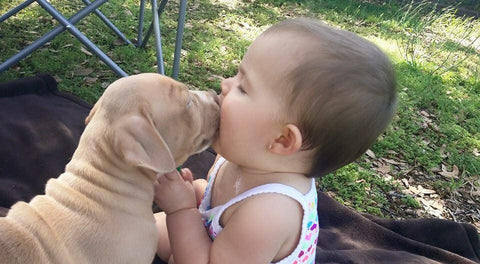 Aggressive
Pit Bulls are not human aggressive. The American Pit Bull Terrier as a breed is not human aggressive. In fact, quite the opposite is true of the breed. They are gentle and loving dogs. Like any dog individuals can be unsound and have behavior problems.
Good for People
Pit Bulls are commonly used as therapy dogs. Whether they are visiting a senior care facility or helping someone recover from an emotional accident, Pit Bulls are making a mark as outstanding therapy dogs.